Share
@salaciouspeachy has been blowing up my timeline daily since I found her art a few weeks ago. Her art style coupled with her redhead OC Peachy lends a soft playful sweetness to everything, and every artist that comes into contact with it can't help but do some fanart of her. The 22 year old Texan started her NSFW career in July and now just two months later is sitting on 9k with a solid Patreon account running. In the time it took me to DM her yesterday she'd already pulled another 700 followers by the time we started this interview. I figured I should probably chat to her before she goes any more meteoric, so I could say I was here on the ground floor.
How long have you been doing this? Is this your first Twitter account? I feel like you came out the gates swinging hard.
So I've been drawing since I was little, nonstop, I have always loved it… My dad was an artist, and I wanted to be just like him. but yeah, this is my first account, I really wanted to hit it hard because this is my dream career.
hot flannel thief alert pic.twitter.com/4FqpCMlShD

— Peachy🔞 (@salaciouspeachy) September 9, 2022
You're smashing it so far! Was NSFW art in particular always the goal?
Thank you! Well, no, but I figured my style in particular could find its own place in the NSFW scene, I felt like I could kind of plant the seeds for my own brand of lewd art!
I tried SFW, but it wasn't working out the same way as it is with NSFW art.
You found it harder to gain traction in the SFW space?
Yes! It was kinda like, going unnoticed. My art is cute, but making it NSFW gave it another element and that made it a great combo… Like cute wasn't enough so I slapped some boobies on there to give it some extra intrigue and then it took off from there.
People have totally connected with your OC, she's so cute! Did you have her developed before you dived into NSFW?
No, I created her the day I created my Twitter account! I didn't do a whole lot of planning, I just told myself to take the leap, you know?
Huttslayer Peachy ⛓️ pic.twitter.com/qCYQ1OJQa3

— Peachy🔞 (@salaciouspeachy) September 10, 2022
Does she have a name or is she also Peachy?
She's Peachy, yeah. Name inspired by my peach bedsheets.
So good! That's great you just dived in, were you worried about getting snapped doing NSFW by family or anything?
Yes I am terrified of being found out, that's why I haven't shared my face here.
Yeah that's something a lot of us struggle with. Does anybody in RL know that you're doing NSFW art?
Yes, a couple of my friends, but none of my family.
Same here. I keep accidentally leaking pics and my account at friends on discord by accident.
I showed them on purpose, cause I think it's cool lmao.
you asked for cake?🍰 pic.twitter.com/S3yOEjjKwn

— Peachy🔞 (@salaciouspeachy) August 24, 2022
What do you do your art on?
I draw on my iPad, using Procreate.
How soon after you started did you have your Patreon up and running?
I waited until I hit 1K before I launched my Patreon, which was nine or ten days after I made my first post!
Were you blown away by that growth?
Yes, very much so! Tomorrow makes exactly two months since I started, and I am right up against 10K. so mind blown, seriously. Like two months ago today I was celebrating 20 followers, and today @_megrocks decided to draw my OC outa nowhere, it makes me feel so seen and loved and inspired.
flannel thief pic.twitter.com/APRFxn5ANt

— meg 🖤 (@_megrocks) September 22, 2022
Yeah yesterday you had just broken 9k! What do you attribute most to all this growth?
I attribute it I think to consistency… I believe the only couple of days I missed a post was when I had surgery last month, but I try to post every day, treat it like the job I want. I also want to believe it's because people love the OC, I try to mostly focus on her, it's why I plan on phasing out non-original content entirely, like fanart. Really double down on Peachy lol.
Peachy is such a strong brand in her own right you really don't need to rely on fanart now. Thinking about merch?
Yes! IRL I am a skilled sticker maker, from start to finish all at home, so I plan on introducing Peachy stickers in the near future!
bunny girl anal commission for @AluminiumFoiled 🐇 pic.twitter.com/DsBbpFvFAQ

— Peachy🔞 (@salaciouspeachy) September 2, 2022
Oh nice, you have a vinyl cutter and everything?
Yes, a Silhouette machine! In a pinch, I've had an idea for a sticker in the morning, and by the afternoon I have dozens of new ready to sell stickers of that idea. So yeah I wanna start makin some Peachy ones lol
How much time do you think you dedicate to drawing every day? Do you have to fit this around a day job?
I try to get all the week's posts done on Monday, give them to my Patrons early, and mid-week we have a weekly poll for Peachy cosplay pinup sets, so I try to complete that set on Wednesday, so of the five weekdays I probably spend on average like three hours a day?? but all the hours I put in are on Monday and Wednesday if that makes any sense. then the rest of the week I'm free to work on any commissions I receive. But I only get like two commissions a week usually, so they're not too hard to do early in the week either. I'm unemployed and living with family, suuuuper ready to have a career and get my own place.
Do you have any advice for anyone else who's thinking of diving into the NSFW space?
Whether or not it's a hobby or your dream job, be authentic to yourself when you create and don't try to be someone you're not, because people connect best when they can see you through your artwork! we want you the way you are.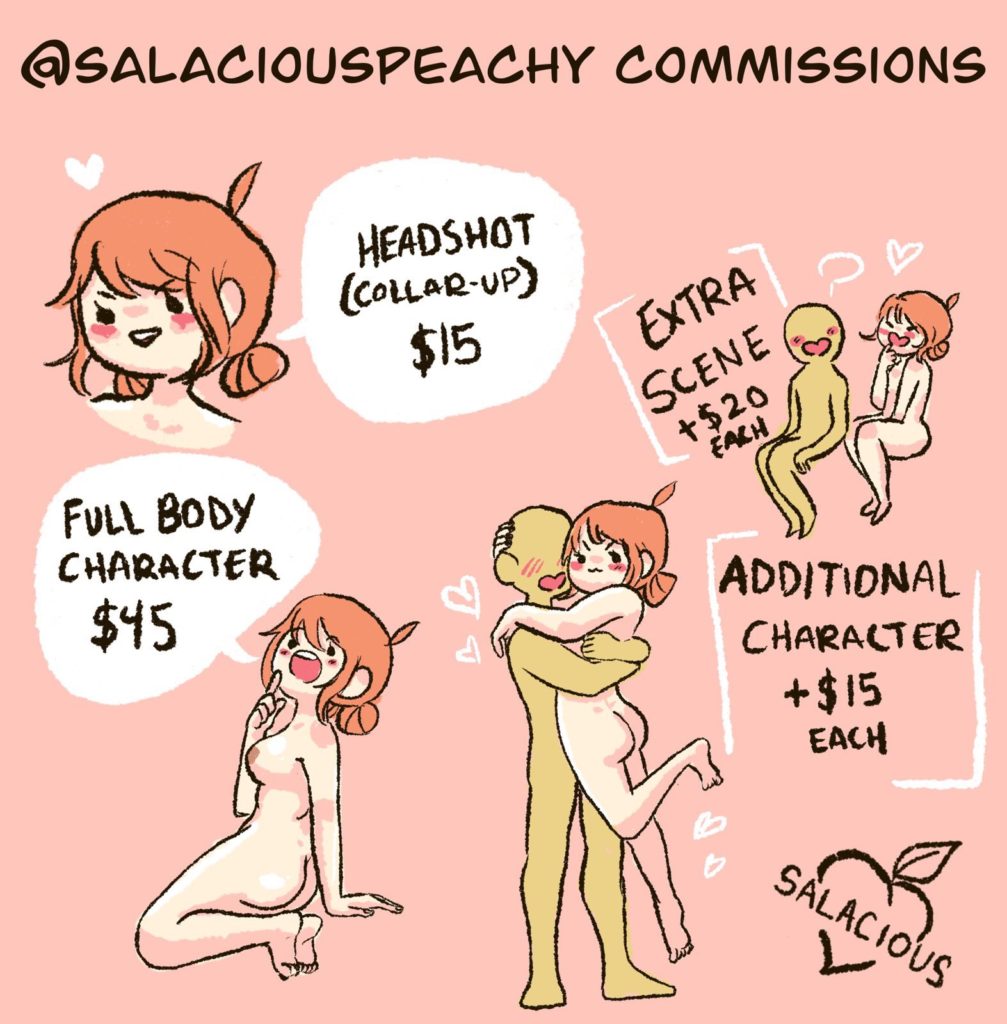 ---
You can follow Peachy on Twitter Here, join her Patreon right here and also check out her Patron Discord community while you're there. It's a super tight-knit community and 100% exclusive.
Now I have to go and do some fanart real quick.